How To Choose a Skateboard Backpack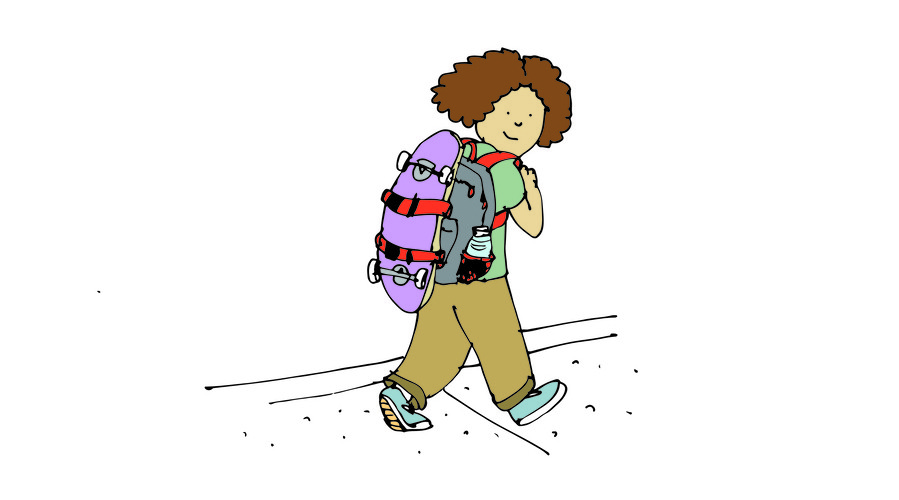 For skateboarders, selecting a backpack specifically designed for skateboarding is key. What makes a skateboarding backpack different from a regular backpack? It comes down to three things:
Skateboard carrying straps
Abrasion and weather resistant materials
Compartments designed to organize skateboarding accessories
This article will explore these features in more detail and give you the knowledge needed to select the skateboarding backpack that fits all the needs of a skateboarder.
Considerations Before Buying a Skate Backpack
There are a few things you should consider to confidently begin your search for the perfect backpack. The following section will go over these key considerations in more detail.
Size
What size skateboarding backpack do you need? The answer depends on where you're going, how you're getting there, and how long you're going for.
Backpack sizes are measured in liters (L), indicating the volume, or space, inside a backpack. Skater backpacks come in a variety of sizes including but not limited to:
5L small-sized waist packs, aka fanny packs
25L – 30L standard-sized backpacks
40L+ large-sized skateboard duffle bags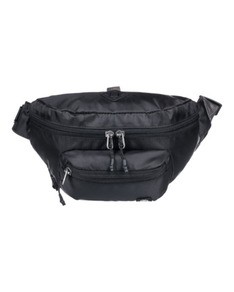 For those heading out for a day-trip or an afternoon session, a fanny pack might be all you need to carry the essentials and not be weighed down by extra items.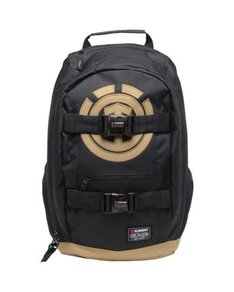 Some skaters like to reserve the soles of their skate shoes only for the skatepark and will opt for a standard-sized backpack to carry their shoes, skateboard, water, and other essentials.
For those who want a backpack they can also use for every-day life, 30L backpacks are a great option as they offer enough room to carry work or school essentials too.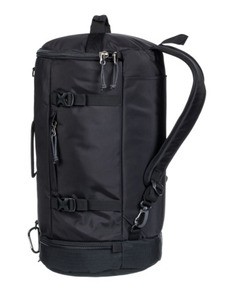 A skateboard duffle bag is the go-to option for skaters headed out on overnight trips. A skateboard travel bag generally offers at least 40L of room, fits in overhead compartments, and comes with all the pockets you need to keep your gear organized.
Durability
When attached, skateboards rub against and damage the fabric of backpacks. For this reason, the materials used on skateboarding backpacks are durable and reinforced in specific areas, notably the front panel and the base of the pack.
The front panel is the part of the backpack which is in direct contact with the grip tape of the skateboard when attached. Because grip tape can be abrasive with the natural movements of riding, durable materials such as ripstop nylon, leather, or other high-denier (tightly woven, thick materials) are routinely used for skateboarding backpacks.
Some packs have urethane or hard plastic patches on the front panel to further protect against abrasion from the grip tape.
The base of the backpack is also an area which receives wear over its lifetime, and is ideally reinforced in the same way as the front panel.
Compartments and Organization
Organizing your stuff is essential to protect it from loss and damage, and the key to backpack organization is compartments.
Skateboarding backpacks often come equipped with: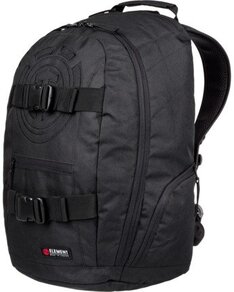 Main compartment with a laptop sleeve
Tricot-lined sunglasses pocket to keep your shades safe during your skate session
Zippered side pockets for skate tools, wax, extra hardware and bearings, etc.
Zippered interior pocket to secure your keys, wallet, phone, etc.
Some backpacks come with a secondary compartment which can be handy for storing your skate shoes and socks to and from your skate session.
Some of the key pieces of gear that a skater might want to bring out for a skate session include:
Skate shoes
Extra laces
Block of wax
Extra hardware
Extra bearings
Water bottle
Extra socks and t-shirt
Sunglasses
Comfort and Fit
Skateboarders will wear their backpacks while skating to and from a skate spot or skate park, so comfort is essential. This comes down to two main features: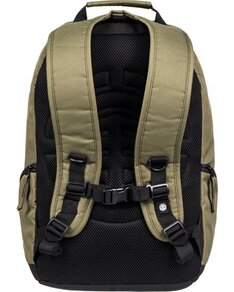 Skateboard backpack straps should be padded, adjustable, and equipped with a chest clip to keep the pack snug against your body. Waist straps help to further secure your backpack and keep it from moving around while you ride.
Back panels should be designed with maximum breathability in mind to avoid any rubbing or chafing.
The fit of the backpack is also something to consider to avoid unnecessary strain on your back.
Backpacks are designed for different torso lengths, which is why there are men's, women's, and kid's specific backpacks. To know if a backpack is the right fit for our body, check the following:
The shoulder straps can be adjusted snugly so that there is no gap between the back panel and your shoulders.
The chest-strap should be in the middle of your chest and not above your collar bones.
If the pack has a hip-belt, secure that first and check that the shoulder straps are parallel with your shoulders, and not below or above them.
Style and Design
Style is a key component that is integrated into skateboard culture. Skateboard brands often collaborate with artists to design limited-edition collections to give your backpack a unique look.
Skateboard backpacks should be designed with the following basic features:
Skateboard carrying straps
Durable and weatherproof materials
An adequate number of compartments to store key gear and accessories
A chest-strap to keep the backpack secured to your body while skating
We'll explore each of these basic features in more detail in the following section.
Features to Look for in a Skateboard Bag
Skateboard Carrying System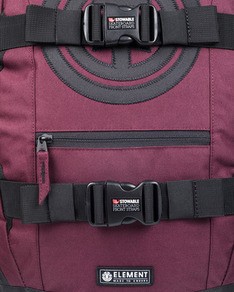 A skateboard carrying system is the key differentiator between a skateboard backpack and a regular backpack.
The system is generally made up of two horizontal straps with buckles that can be adjusted to keep your skateboard securely snugged to the pack in a vertical position.
To fasten a skateboard to your skateboard backpack, follow these steps:
Unbuckle the skateboard carrying straps
Place the grip-tape side of your skateboard onto the front panel of the backpack.
Pull the bottom strap across the skateboard below the bottom truck, and attach the buckle.
Pull the top strap across the skateboard below the front truck, and attach the buckle.
Tighten both straps so that they are snug and check that the bottom truck is supported by the bottom skateboard carrying strap.
Laptop Compartment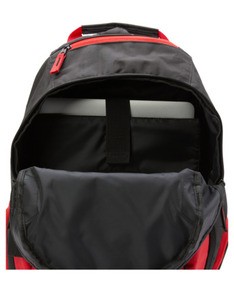 Whether you're bringing your laptop to the skatepark to take photos or video, or carrying it to school or a cafe, a laptop compartment is a standard component in most skateboard backpacks.
Ideally, your skateboard backpack will have a hook and loop closure over the laptop compartment to keep your computer from bouncing around while you skate to a session or to work.
Water-Resistant or Waterproof Material
Durable, high-denier materials are often weather-proofed with a DWR (durable water repellent) coating to protect your gear from the elements.
If you live in a rainy place, you can buy backpack rain covers that will protect your skateboard if you get caught in a storm.
Reflective Details for Visibility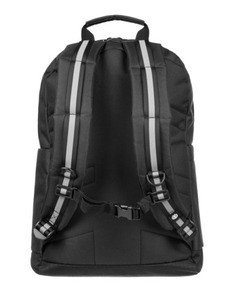 Skateboarding sessions can go on long into the night, or are best had in the cooler evenings of hotter days. Reflective highlights are key for keeping safe and visible on the streets.
Ideally, the reflective details are located on:
The sides of the pack
The front-facing part of the shoulder straps
The sides of the front panel where they won't be covered up by an attached skateboard
Additional Pockets and Storage Options
Beyond the basic compartments for your main gear, your laptop, and some key accessories, the following additional pockets can be useful in a skateboarding backpack: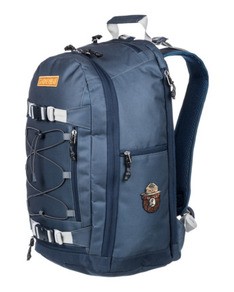 Secondary compartment to keep socks and shoes separate from your other gear after a sweaty skate session
Nylon drawcords for drying socks on the outside of the pack on the way home from a session
Zippered water bottle pocket that keeps your beverages separated in case of spills
Thermal-lined pocket to keep your drinks and snacks cool on hotter days
Skateboarders have specific needs, which is why many brands offer backpacks designed with skating in mind. Size, materials, compartments, style, and design are all things to consider when shopping for the right skate backpack for you.
Related Guides
Different Types and Shapes of Skateboards
How To Choose Your Skateboard Size
How To Choose Skateboard Wheels
How To Choose Skateboard Bearings
How To Choose Trucks for Skateboards
How To Choose Skateboard Grip Tape
What Skateboard Hardware Do You Need?
How To Choose a Skateboard for Beginners
How To Clean Skateboard Bearings
How To Apply & Remove Skateboard Grip Tape
How To Install Skateboard Wheels