What Skateboard Hardware Do You Need?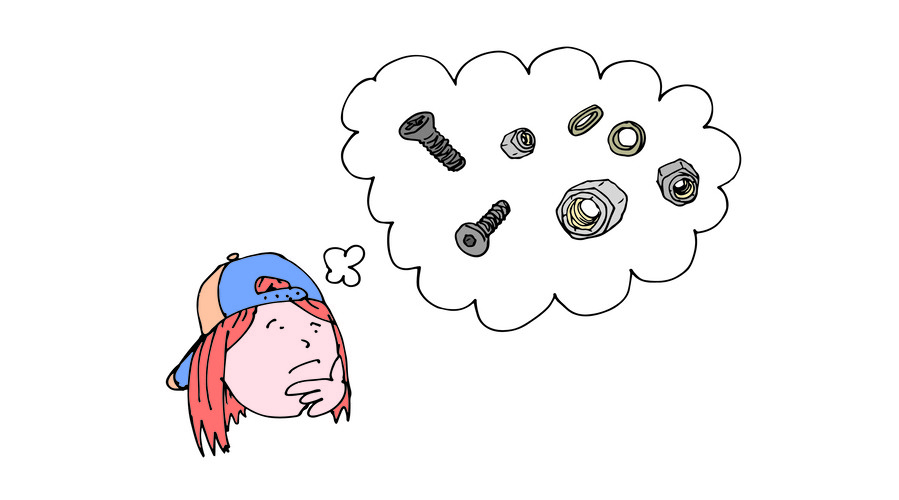 Skateboard hardware is an essential component of your skateboard that is often overlooked. Hardware is the nuts and bolts that hold your trucks to your skateboard deck.
Hardware is available in two different bolt styles: a hex head bolt (to be used with an allen key) or phillips head bolt. Both work equally well, and having a specific skate tool to mount the hardware will be an indispensable accessory for building and maintaining your skateboard.
The following article dives into hardware sets and will teach you which one will complete your setup and complement your riding style.
What Is Skateboard Hardware?
Hardware sets come in several different lengths and consist of: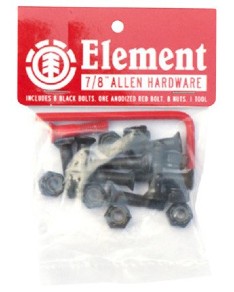 Eight bolts of the same length
Eight ⅜" nuts with nylon inserts
One ⅛" allen key if that is the chosen tool indent
Some hardware sets are sold with two or more bolts painted a different color than the rest. These differently colored bolts can be used to remind skaters which end of their deck is the nose or tail.
Selecting the right hardware size is essential for keeping your board held together securely. Choosing bolts that are too short will prevent you from fastening your trucks to your deck. Picking bolts that are too long can prevent you from adequately tightening your hardware leaving your trucks too loose.
Selecting the correct size depends on a combination of factors. Keep reading to learn more.
Pick the Right Skateboard Hardware Size
Choosing the right sized skateboarding hardware comes down to three things:
The thickness of your deck.
The diameter of your wheels.
The use of riser pads or not.
Riser pads are designed to put distance between your deck and your wheels to avoid wheel bite. Wheel bite is when your wheels come to an abrupt stop during a turn as your deck touches spinning wheels. The size of your riser pads will affect the length of your hardware.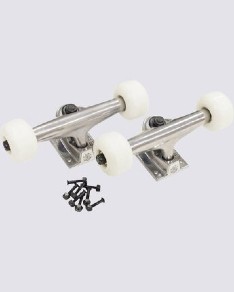 Trucks are also available in different profiles, such as low, mid and high, to achieve the same goal as riser pads without adding extra thickness under the baseplate. To learn more about choosing trucks, check out our dedicated article on "How To Choose Skateboard Trucks".
Wheel diameter will determine whether you need riser pads or not. Street skaters will generally have wheels between 52 - 56mm with or without risers, while filmers, bowl riders, and skaters using cruiser boards might use 60mm with riser pads. Wheels above 60mm are generally reserved for longboards and downhill boards.
Skateboard Hardware Size Chart
The following chart will help you know which size hardware to choose.
| | | | |
| --- | --- | --- | --- |
| Wheel diameter (mm) | Rider Pad Height (in) | 7-ply Hardware Size (in) (standard street decks) | 8 or 9-ply Hardware Size (in) (cruisers and longboards) |
| 49-54 | Not Needed | ⅞ | 1 ⅛ |
| 55-57 | ⅛ | 1 | 1 ¼ - 1 ½ |
| 58-64 | ¼ | 1 ⅛ | 1 ¼ - 1 ½ |
| 65-67 | ⅜ | 1 ¼ | 1 ½ - 2 |
| 68 > | ½ | 1 ⅜ or 1 ½ | 2 |
Before fastening the nuts to your bolts, ensure your hardware is sticking out above the baseplate or riser pads by about ¼". The bolt should be just long enough to fully thread through the nut with minimal excess leftover.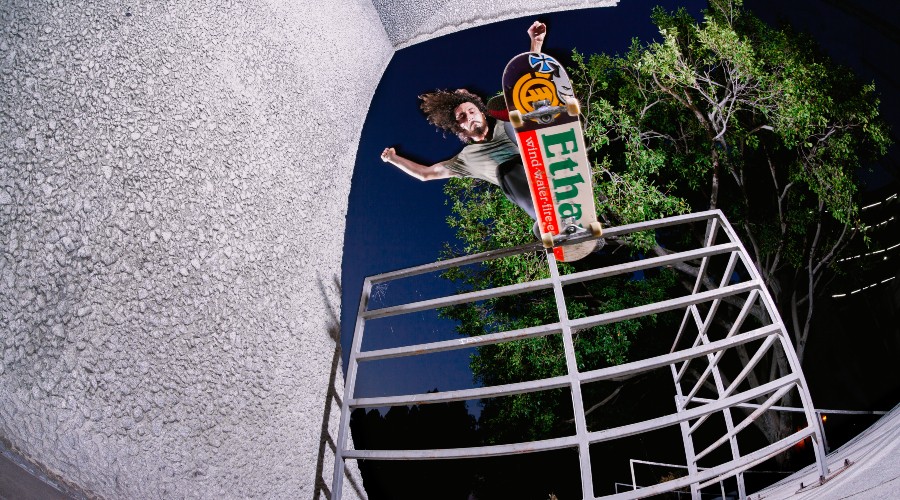 How Tight Should Skate Hardware Be?
Skateboarding hardware is fairly straightforward to assemble. Each truck should have four bolts and four nuts.
The following steps will guide you through assembling the hardware for your standard street deck:
Thread the bolts through the top of the skateboard deck so that their heads are anchored in the grip tape.
Slide your truck onto the exposed bolts with the kingpin facing inwards.
Thread the nuts onto the ends of the bolts with your fingers until they are secured.
Use a skate tool to tighten the hardware so that the head of the bolt becomes flush with the grip tape.
Do not over tighten the head of the bolt below the grip tape.
Hardware needs to be tight, but not too tight. If you over tighten your hardware it creates pressure cracks in the bottom of your deck. Pressure cracks can lead to your deck breaking sooner and affect the pop of your board.
The rule of thumb is to tighten your hardware until the heads of the bolts are flush with the grip tape.
When Should Skateboard Hardware Be Replaced?
Hardware should be checked regularly to ensure that all the nuts and bolts are tightly secured. As we ride, our skateboards endure constant vibrations both big and small which can loosen our hardware and wear it out. Avoid stripped bolt heads, worn out threads, and chewed up nuts by checking your hardware regularly. When this happens and you can no longer tighten your hardware, it's time to buy a new set.
Hardware for skateboards is an essential piece of your setup that should be chosen after you've selected your deck, wheels and trucks. It should be regularly maintained and replaced when necessary so that you can skate stress free.
Related Guides
How To Choose Your Skateboard Size
How To Choose Skateboard Bearings
How To Choose Skateboard Wheels
How To Choose Skateboard Trucks
How To Choose Skateboard Grip Tape