How To Apply, Remove and Clean Your Skateboard Grip Tape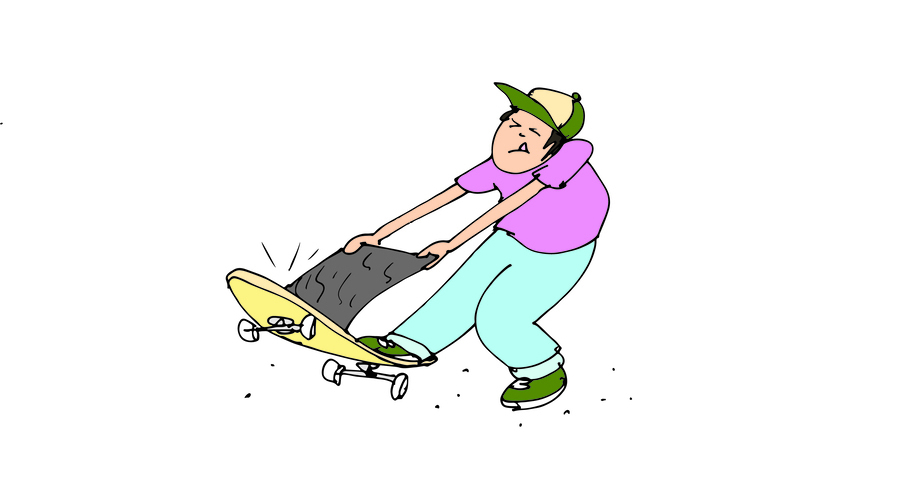 Keeping your skateboard grip tape in prime condition requires a certain level of care. First, you need to know how to apply it. Then, you'll need to know if your grip tape needs to be cleaned or removed.
Below, we cover everything about adding, changing and cleaning your grip tape.
How To Apply Grip Tape to a Skateboard
You've got your deck and your grip tape, now all that's left to do is apply it. With the steps we've described below, the process of applying grip tape will be as smooth as your next transition.
Materials Needed
Aside from your skateboard deck and a sheet of grip tape, you'll also need:
Screwdriver to mark the edges of the grip tape and provide a "stencil" around which to cut
Sharp utility knife or razor blade to cut around the edges
File to smooth out the freshly cut edges
Adjusting Grip Tape to a Deck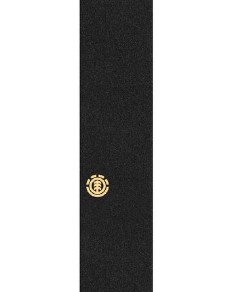 Lay the sheet of grip tape over the deck and make sure it's large enough to cover the entire board. You also want to ensure that the grip tape extends an extra inch or two over the edge of the skateboard so that you've got some extra tape to work with.
If everything is in check, you can move on to the next step: adhering it to the deck.
Adhering Grip Tape to a Deck
Remove the backing from the grip tape and place the sheet sticky-side down onto your clean, dry deck, making sure you still have excess grip tape hanging over the edges of the board.
Press the tape down slowly and firmly, little by little, starting at one side and moving to the other (much like when you apply a screen protector to a cellphone), as this helps to avoid air bubbles.
Once the entire sheet has been pressed down, you can prepare the edges for cutting.
Cutting the Edges of Grip Tape
Before you cut the edges, you're going to need to mark them. This is a simple process to help guide you with cutting.
Take a screwdriver or skate tool and use it to rub/press down the edges, making your way around the entire deck. As you do this, a white line should begin to appear – this is your "stencil", which shows you where to cut. The harder you press, the more visible your line will be.
Following this white line, take your utility knife or razor blade and cut the excess tape off the deck, holding the knife at a slight angle to give you a neat edge.
All that's left to do is sand down the edges or use your screwdriver to round them down a second time – this helps to stop the grip tape from peeling off.
Truck Hole Poking
The last step is to poke holes through the grip tape where your trucks will be mounted.
Start by flipping your board over so you can see the holes in the deck. Then, take the screws from your trucks and poke them through these holes, ensuring you puncture the grip tape.
Cut away any excess material and you're all done.
Additional Tips
As mentioned above, pressing the grip tape down slowly and firmly from one side to the other helps avoid air bubbles from forming. However, if some small air bubbles do appear, you can try pushing them out over the edge of the deck or piercing them with your utility knife/razor blade.
You also want to avoid cutting the grip tape to your deck size before applying it; doing this means you have to line the grip up perfectly when you stick it down, which can be very tricky.
If you're replacing old grip tape with a fresh sheet, we cover tips for removing the old material in the next section.
For more useful information about grip tape, check out our article on "How To Choose Grip Tape".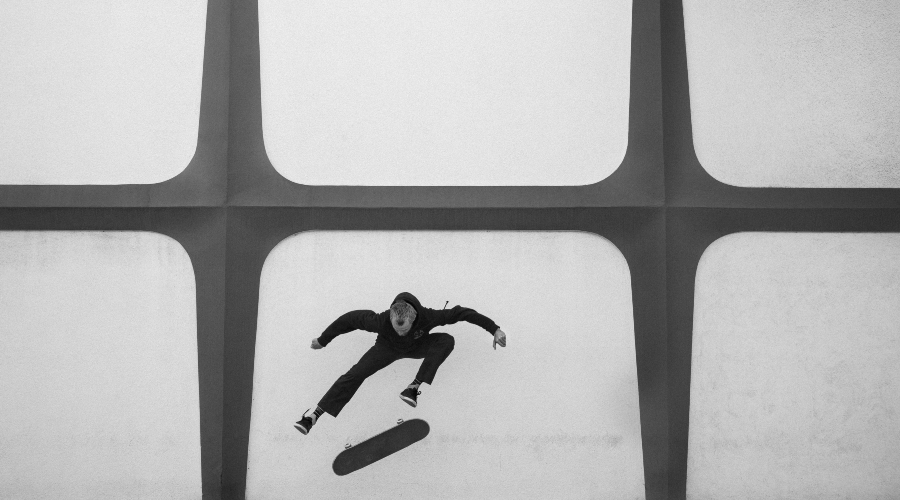 How To Remove Skateboard Grip Tape
Skaters usually don't change their grip tape, they change boards. However, if your skateboard's grip tape is starting to wear, it might be time to remove it and apply a fresh new sheet. To ensure that you take it off neatly, here's what you'll need to do:
Removing Skateboard Trucks
The first step is to remove all the hardware from your deck. Once this is done, you can begin removing the old grip tape.
Heating and Peeling Skateboard Grip Tape
The easiest way to remove your grip tape is to heat it up, which can be done with a blow-dryer.
Start by heating the edges of one end of the skateboard to loosen the adhesive.
Once it's warm, take your utility knife or razor blade and run it along the edge of the grip tape to help pry it up enough for you to grab it with your fingers. Then start peeling the grip tape back.
Repeat this process of heating and peeling until the grip tape has been fully removed.
Sanding Your Skateboard Deck for Extra Removal
If there is any residual adhesive or stubborn scraps of grip tape you wish to remove, take some sandpaper and sand them down for a smooth finish.
How To Clean Skateboard Grip Tape
If you've ever wondered how to get the dirt off skateboard grip tape, there are a couple of different methods you can use that require minimal supplies.
Grip tape gum: A popular, easy way to clean grip tape. This works best for removing dust, light dirt or gum. All you need to do is rub the block/bar of grip tape gum along any dirty areas to clean them.
Brush and water: Ideal for removing stubborn, crusty mud and dirt. All you need is a small bowl of water, a rag and a firm bristled toothbrush (or similar). Simply dip the brush into the water and gently rub the dirty area(s). Finish by using the rag to wipe away any debris.
Now you're all set on gripping or re-gripping your board so you can get back to skating.
SHOP SKATE ACCESSORIESSHOP ALL SKATE
Related Guides
How To Choose Your Skateboard Size
How To Choose Skateboard Bearings
How To Choose Skateboard Wheels
How To Choose Skateboard Trucks
How To Choose Skateboard Grip Tape